疫情发生的这段时间里
许多人每天都会因
发国难财的人等负面信息感到气愤
或因援汉的人、事而感动至哭吧
In the battle against the virus,
you might be surrounded by inspiring or negative news.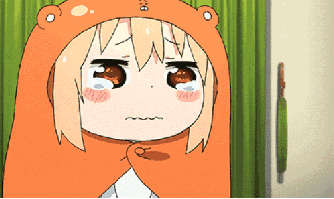 在这个时候
我们不能被负面消息支配情绪
温暖、高甜的信息还是要看滴~
这不前段时间一个微博热门话题
"疫情过后,你最想做的事是什么"
"duang"一声出现了
下面列举一些网友最想做的几件事
一起来看看吧
There is a hot topic flowing,
What Would You Want To Do The Most After Winning The Virus?
Let's read some wishes from their hearts...


From the Heros
战斗在一线的工作者
医生脱下厚重的防护服
卸下一身责任与重担
Medical staffs wish to
put off the protective suits,
along with the heavy responsibilities,
no emergency call,
no critical ill notice any more...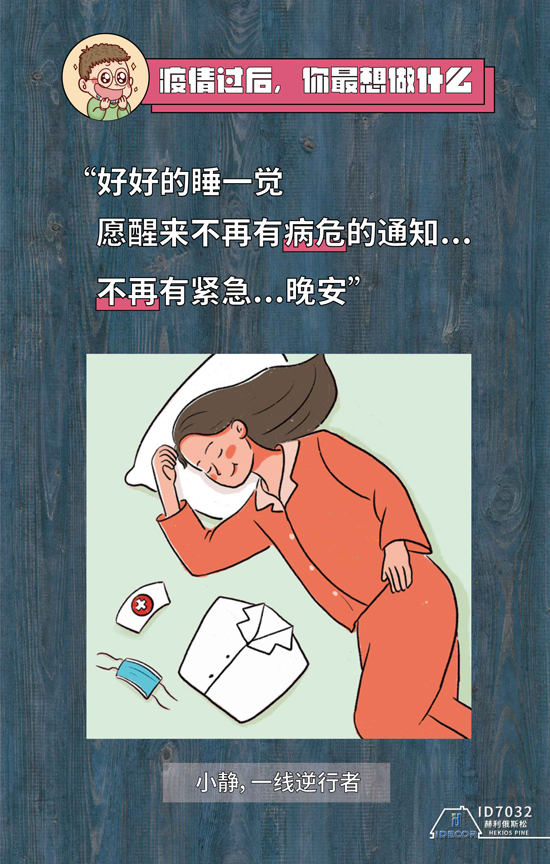 平凡的天使们
现已一切安好
请安心的休息吧!


From the Couples
充满思念的情侣
有情人终能相拥
Desire a big hug finally,
free to kiss from dawn till dark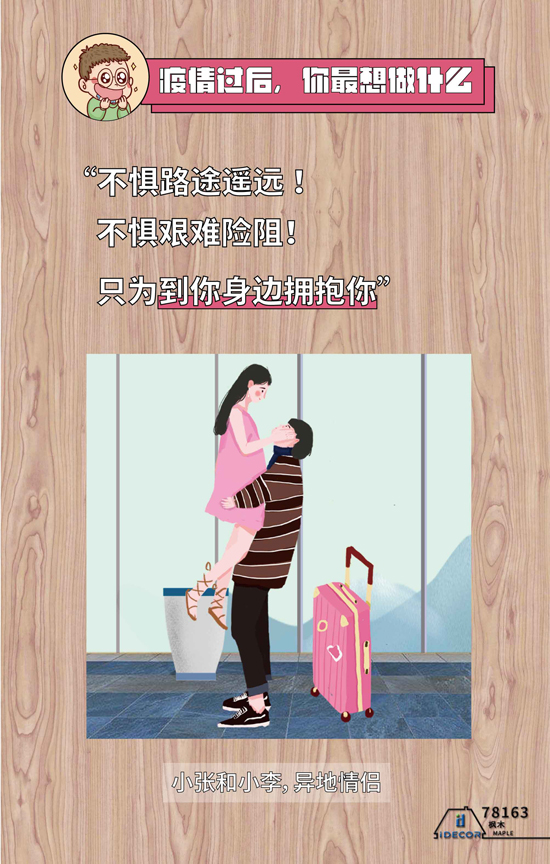 待春暖花开之日
尽情亲吻相拥吧

From the common citizen
有人百无聊赖
有人自创神技
有人期待门外世界
Looking forward to the world outside,
wish one day everyone
can breathe freely outside,
enjoy the crowd,
enjoy the moment with each others.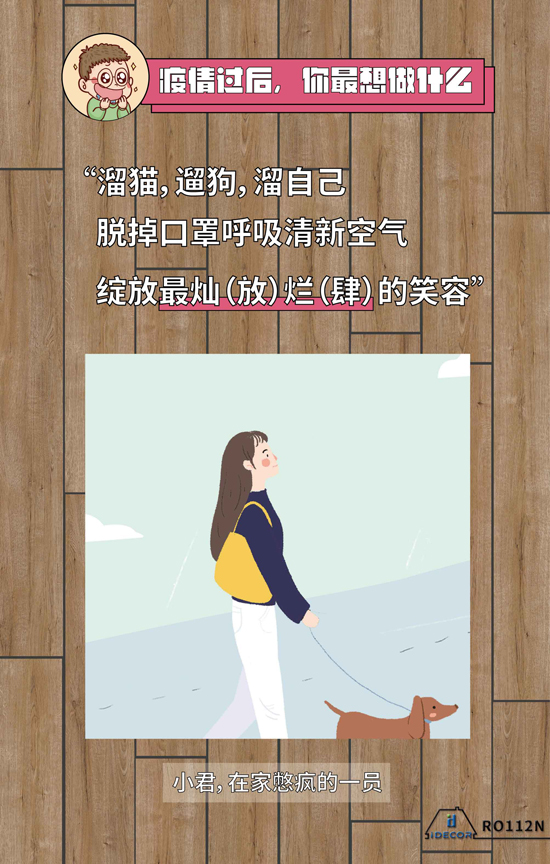 哪里人多就去哪里
尽情享受舒畅的空气与人群的拥挤


From the ones in quarantine
身处远方的儿女
请好好孝顺父母
Wish to have a healthy body,
spend more time with families.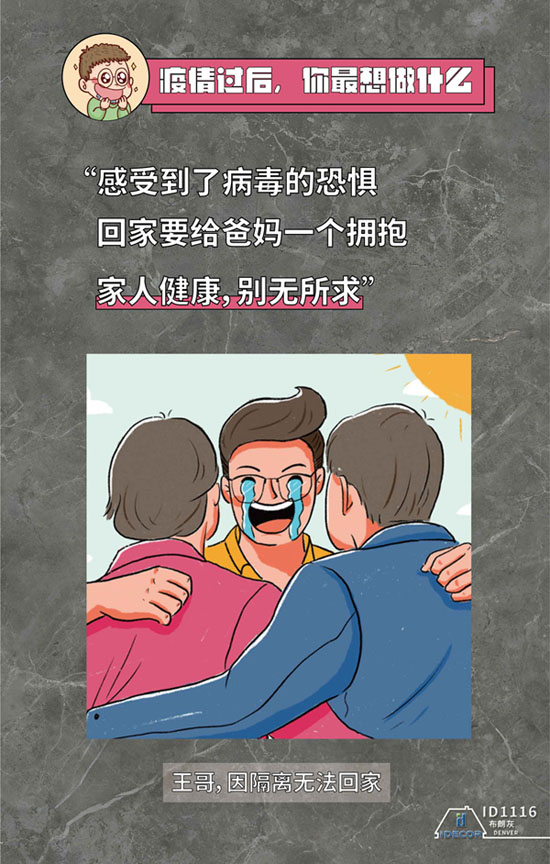 时间太短,陪伴太少
抽空回家,陪陪父母


From the foodies
各位吃货宝宝
估计都馋坏了
对吃不到的美食垂涎已久
Staying at home and keeping away
from restaurants for a long long time,
wish to take all the favorite food once
we are released.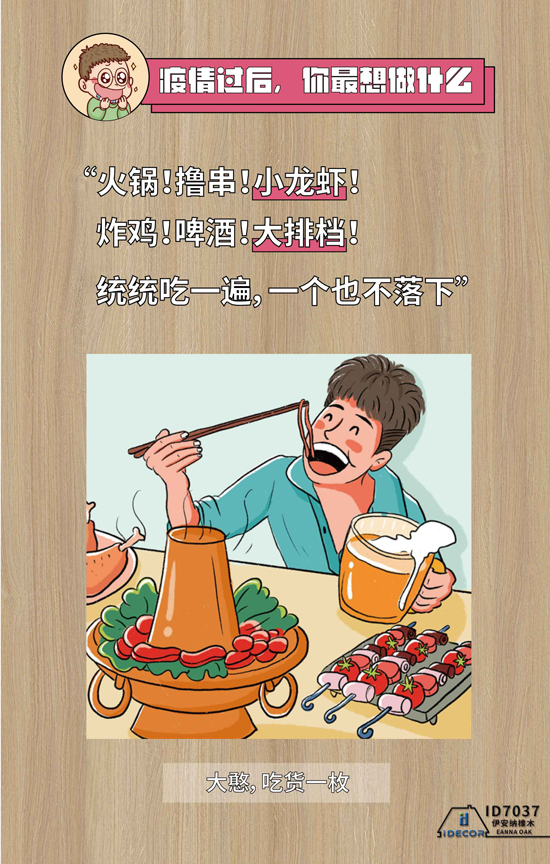 敞开你的胃
吃它,吃到是自己的


From the fatties
相对于部分吃不胖的吃货
正常人体重的增长却是个噩梦
Must be an increase of body weight
after one month indoor life.
Their wishes are, loose weight,
loose weight, loose weight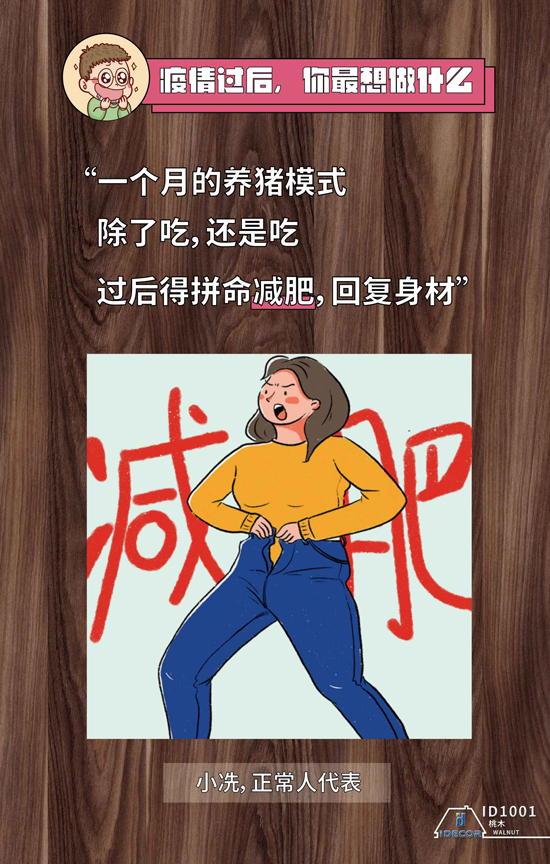 养猪一月,减肥一年
减肥、减肥、再减肥
春天已经来了,疫情的各项数据也在都持续下降。
因为疫情。我们重新认识了平凡日子的伟大,
学会珍惜生命、珍惜身边的亲人朋友。
现如今疫情危机还没有解除,
还是要少出门,戴口罩,自我防护要做好,不为国家添烦恼。
待疫情结束后,我们都能完成心头的牵挂。
疫情过后,最想做什么呢,以上列举的事情中有没有你想去实现的?
The positive trend in the prevention and control work is now expanding.
In these days, we realized the importance of the common days, our families, our friends, and our lives.
We still need to keep the masks now, but finally we will be free with health, that's our common wish.
Would you want to talk about your wishes? Welcome to leave your words on message board!